Once your team is staffed, and IT has your office all prepped, you are ready to start revving up your BDC. In this post, we will elaborate on helpful Automotive BDC Tips and Tricks, answer questions about team synergy, and elaborate on the subject of BDC reps handling pricing.
The Automotive BDC Manifesto is out now!
Setting up the BDC and learning the ropes can be hard. When setting up the BDC at my dealership, we had a "BDC wiz" consultant on hand once a month to work with. He provided us with a guide on pay structure, some BDC templates, and some frequently asked questions. The guide was lacking in some key areas that were meant to be left up to us.
Suffice to say; I had some reading to do. Below I'll break down some of what I've learned from online forums, BDC guides, and my own experiences managing our BDC.
The Follow Up Article: How To Be a Good BDC Rep (Click to Open)
Automotive BDC Tip #1: Your BDC Reps are Salespeople
Although all of the BDC reps make an hourly wage, the reason they work hard is the bonus structure.
We pay reps with the following plan:
There is a keen perception online that "BDC reps are not salespeople" and that we should pay for shown appointments but not sold appointments. Paying only for shown appointments seems like a more recent development, but I disagree on both counts. My BDC reps are salespeople, and I treat them as such. I track two main metrics at the end of the month:
Number of shown appointments
Number of sold appointments
With these two metrics, I can compare my rep's performance against their peers and their previous months. I also check the number of appointments set in the first ten days (for their fast start bonus).
Here is an example of the data crunching you can do with just the first two metrics:
Caveat – Remember the Culture!
Although I think of the BDC reps as salespeople, I never forget the environment they work in. Whereas on the sales floor a disgruntled salesperson can find space to escape their coworkers, in the call center you are shoulder to shoulder. As such, it's essential to have the reps compete with themselves and not with each other.
If your most successful rep is becoming cocky, try to have them take on more coaching responsibilities with the up and coming reps. Don't let them laud their success over everyone else.
Strict Appointments vs. Soft Appointments
Strict appointments mean that you only count appointments that show within 30 to 45 minutes of the set time. Soft appointments leave that window to 12 hours.
Online advice stresses to pay on "strict appointments" that arrive within 45 minutes of the time set by the BDC. Although we could see why the idea is so popular (tough love on late appointments might drive the BDC to set firmer appointments), we ended up deciding that it was off-putting for our reps.
We instead opted for a softer window and instead monitored when appointments showed up late and investigated. When there was BDC fault (we can listen to the call), we would use it as a coaching moment.
Automotive BDC Tip #2: Encouraging Synergy with the Sales Floor
One topic that seems to be ignored by many BDC experts is the need for strong synergy between the BDC reps and the floor salespeople. At many dealerships, the BDC reps are the "girls in the back" or the "ladies upstairs." Worst still, some BDC are off-site, destroying much of the possible synergy.
Synergy with the sales floor is critical to maximum BDC effectiveness!
The solution to this is information and contact. After being brought on board, the BDC reps should be given a list of salespeople names, phone numbers and schedules. Make sure that the salespeople's plans are updated monthly so that appointments are set on the right days and times to coincide with the salespeople.
Next, contact is critical. The BDC should foster the spirit of the sales department, and they should be brought in to the weekly sales department meetings. Although they don't need to stay for the whole thing (they can skip the lot management reminders at the end) they should be there at the start of the meeting.
When the salespeople see the BDC and interact with them, they are more likely to work together. That means better notes on fresh ups, better communication on preparing for appointments, and better conversions.
The BDC Reps are Salespeople!
Again, I stress that BDC reps should be thought of and treated as salespeople at the dealership. Paying them partly on sold appointments is a vital part of that!
A bonus of treating your BDC as salespeople is that they can be funneled into a full cycle sales role. Although I haven't had this experience at our BDC, I have heard of others doing this.
The BDC and CRM
If you could build out an entire sales floor with employees that hit the phones every spare second they have, you wouldn't need a BDC. Fact is, it's difficult to develop a strong phone culture at a dealer, and the BDC is an elegant and practical solution.
Many dealerships can't even get their salespeople to use the CRM properly!
The BDC has a fantastic effect on the CRM system at the dealership. Since the BDC reps effectively "live" in the CRM, they are the greatest defenders of its usefulness. If you remind your salespeople that the BDC can't make active calls on their behalf without right notes, you can increase their CRM compliance!
Automotive BDC Tip #3: Shape the Environment
I've mentioned this is in my previous article, but it is worth harping on again.
Your BDC reps are going to be spending 40 hours a week in the call center. This picture below is what most call centers look like:
It's not very inviting, especially when you remember that they won't be sitting with new exciting customers every day. The BDC reps get the least face time with other people at the dealership.
It's for that reason that, in order to maintain a good environment, you have to go above and beyond.
Encourage your BDC reps to bring personal photos. Have them decorate (or do it yourself!). Make sure that you are festive decorations for the holidays, and snacks and drinks available for them.
Make sure to have a shredder box in the office, and do daily checks the first week or two to make sure that there isn't personal information laying around at end of the day. A lot of BDC reps will write down names and phone numbers- important things to have shredded at the end of the day.
Ergonomics
There are a number of health concerns you need to get ahead of with your BDC reps. You don't want to lose reps to carpal tunnel or lower back pain. BDC reps that don't have proper ergonomic sitting positions can be susceptible. Carpal tunnel is a numbness and tingling in the hand and arm caused by a pinched nerve in the wrist. Lower back pain is more self explanatory, but equally common and avoidable.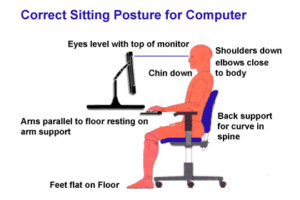 Making sure that your BDC is equipped for ergonomics is your responsibility! Check in with your BDC once a month to check to make sure that they are comfortable and have no complaints. The last thing you want is to find out about a problem when it's too late!
Read up on OSHA's ergonomic guidelines here!
Days Off
BDC reps can get burned out from the constant calling. If you have they well managed and driven, they will be spending the vast majority of their eight hours at work calling, leaving voicemails, and repeating very similar things over and over again.
My solution has been to have an unofficial relaxed day off policy. When BDC reps ask for time off, it is very rare that I say no. I keep rough track, but family and balance is critical to productive reps.
Pricing Guidelines
Some authorities in the BDC space recommend to have your BDC reps never talk price. I agree that the scripting the BDCs use should veer away from pricing. Some customers will not relent, and it is useful to give your reps some tools to use. Although I don't recommend letting them desk deals over the phone, I do encourage them to share lease special offers.
Lease Special Offers
Everyone at the dealership, let alone BDC reps, should know the best lease specials that your store has on offer. Lease offers are the best way to move aged units, reach quotas, and fill your lease portfolio.
When a customer asks:
"Whats your best price on an Audi Q5?"
Rather than responding with:
"I understand that staying within your budget is important. Although I can't negotiate the price over the phone, I can reserve a time for you to meet with my manager to discuss price."
Instead, you can have them mention the lease special:
"I understand that price is important, we have some amazing lease specials right now. We have a $399/m lease special running on a showroom unit right now! It might be gone by this weekend, but I'd love to have my manager get you more details when you arrive."
By providing a hint of what you have on offer, you can increase appointment conversion. You also create urgency by mentioning that the "best deal" might be gone, rather than giving an ultimatum or no information at all.
We will delve into more details on my thoughts on BDC pricing in the next article.
Final Review: Automotive BDC Tips
We've touched on treating your reps as salespeople, team synergy, and ergonomics. We've started breaking into the topic of pricing.
Thanks for reading so far. I'd love feedback from your experiences running or working in an Automotive BDC. Let me know below in the comments!