How does your dealership handle follow up? Is it all done by the individual salespeople? Or is run through a BDC? Most importantly, are you and your team trained to use an optimized car sales follow up script?
Don't want to read? Here are some alternate ways to enjoy this content:
Car Sales Follow Up Script Youtube Video
Car Sales Follow Up Script Soundcloud Link
For a full breakdown of how to respond to an internet lead, check out this follow up article:
Crafting Your Car Sales Follow Up Script
Without training and guidance, process and procedure, your dealer is giving up car sales. Humans are naturally lazy.
You'll be relieved to hear that choosing the couch is only human. Humans are inherently lazy, which may be a trait left over from our ancestors' days of conserving energy for the next hunt.
Laziness has implications, a millennia later, to affect your business in the 21st century. Using optimized car sales follow up scripts and strict processes you can control for the natural tendencies of your workforce.
Car sales follow up is a daily battle for nearly every dealership in the world. In this article, we are going to cover:
Some statistics from my store's internet department sales
Elise Kephart's car sales follow up script
Porsche Fremont's car sales follow up script
Key conclusions and robust processes to install at your dealer
The Anatomy Of A Sold Car Deal
Customers come to your dealership in some different avenues. While fresh ups and phone ups started as qualified customers, internet customers start the cycle as unqualified. You need to find out if an internet lead is the first day that it arrives.
If you like this content, subscribe here for more: [email-subscribers namefield="YES" desc="" group="Public"]
Internet Sold Audit
Here are the cars sold in the first week of May 2018. I have deleted all names from the list.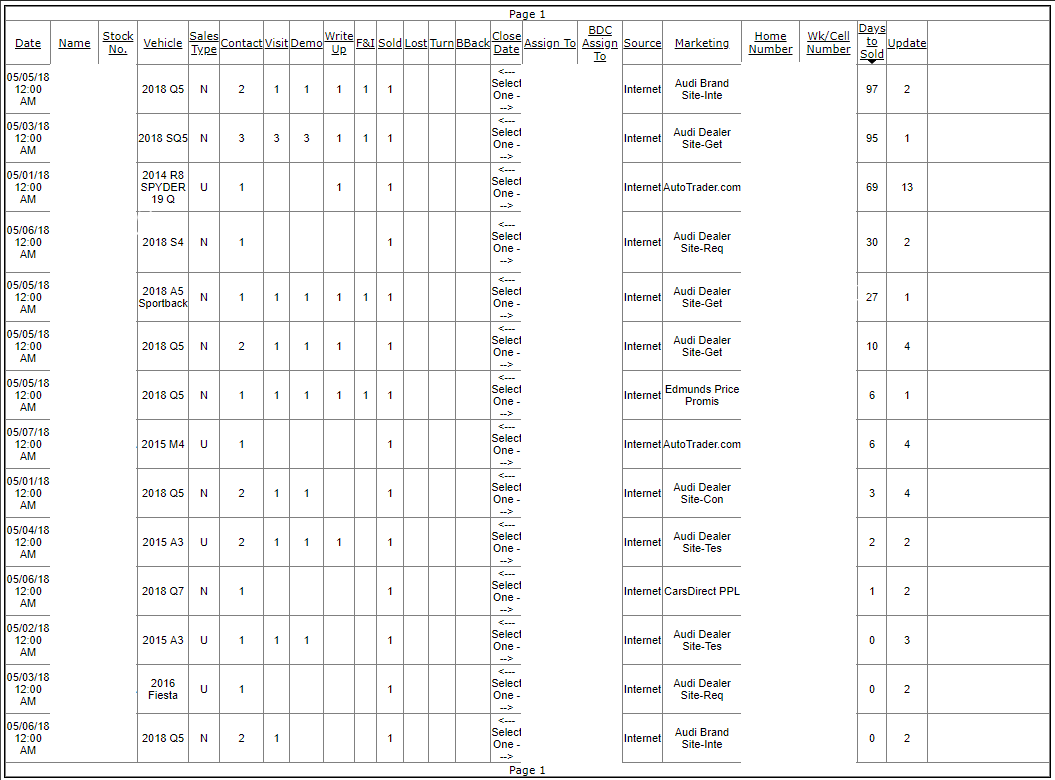 I dove into the car sales follow up script used on these customers. Generally, we relied on a strong first response email template and numerous phone calls.
The most pertinent information on this chart is the "Days to Sold." These sales events took an average of 24.7 days to close. When I dove into these events from my store, I found one more revealing detail.
All but one of these customers first responded to follow up within 48 hours. The one outlier took 50 hours to respond and bought after 30 days.
These statistics scare me- are we missing the opportunity to sell cars to customers that take longer to respond? Where are those long-term unqualified sold customers?
Some More Details On These Sold Deals
So how did these customers first get in contact with our dealership after putting in a lead?
Ten of the fourteen answered our emails, while four of them answered a phone call. None of them responded to the first response text message.
Three of the customers did some of the negotiation over text (they all opted in after speaking on the phone or via email). The cold-text didn't seem to get any response, whereas the customer that has already had some contact appeared to be more receptive.
Conclusions from the Audit
So it seems that while most of our internet customers wanted to talk via email, but a significant chunk (28%) preferred the phone.
I think the more revealing fact is the 24+ day average to close a deal. This average means that not only did the first response email need to be engaging, but the follow-up calls also needed to be regular and well executed!
First Response Car Sales Follow Up Script
When a customer inputs a lead with the dealer, contact needs to be made quickly and with polish. There are a few thought leaders in the automotive sector that focus on this part of the process.
I'm going to break down and analyze the key points made by some of the top "google ranked" follow up experts.
Elise's Video and Volume
Elise Kephart has an interesting follow up the process. She guides you through her ten first response steps. Here is it broke down into a simplified list:
A phone call to make contact. Introduce the dealership, thank for interest, give reason to buy, share contact info, set expectation of follow up
Email a video that shows the vehicle
Send an opt-in text message
Send a postcard
Call again using caller-id spoofing (explanation here)
Email again short email
Call again using caller-id spoofing
Email again short email
Call again using your number
Email again short email
Whew, that's a lot for one day. She breaks down this follow up into four parts of the day.
Key Points from Elise's Car Sales Follow Script
Elise brings three key innovations to her car sales follow script that I appreciate.
Video Message
The first is the focus on video messaging. Video messaging can be an effective tool to share the visuals of a vehicle with a customer. It may be a strong way of differentiating your follow up from other dealers and coming across as willing to contribute strong effort.
The downside of sending a video message is two-fold. First, it takes a lot of time. Now, this isn't a complaint about work. Rather, I think that it isn't the best use of the follow-up person's time. At my dealership you would need to:
Find the car
Rinse it
Park it
Film it
Edit video
Upload video
I have sent videos to customers many times; it's a time-intensive process. It is natural to spend, at a large dealer, at least 30 minutes to do the whole process.
So, is it necessary? I think it depends. If the customer clicks on a used car, then yes, I believe that the video message has value. The exact condition of the vehicle is something your dealer should be proud of. The video that shows the quality of the vehicle can validate the price of a used car in many cases.
On the other hand, when a customer clicks on a new car, I don't see as much value. During my audit above, I found that only two of the nine customers ended up purchasing the vehicle they initially clicked on. Many of the sales events showed that after making contact, the customer explains that they just clicked on a car to make the first contact.
Caller ID Spoofing (Also Called "Neighbor Calling")
This one is a great idea and gets my thumbs up. Although it should be handled with a light touch, the use of caller ID spoofing is a great way to make contact with a difficult to reach the customer.
I would suggest only using it on customers that have not responded to traditional means in the first 48 hours, rather than during the first day that the customer put in the lead.
The reason for not doing this has more to do with consistent contact and building rapport. When building rapport with a customer, having a single number and point of communication for them to associate with you simplifies things. I want my customer to save my phone number and contact me whenever anyone they know wants a new car.
I think that her use of caller ID spoofing is interesting, using it on every lead. I would certainly try it.
Signing Emails with "sent from my iPhone."
Signing emails with "sent from my iPhone" is a nugget of genius. In the digital age of 30+ emails per day, cutting through the noise is difficult. This trick of adding "sent from my iPhone" to the end of a template is deviously clever.
I'm used to imagining the sender furiously typing out the email on their iPhone. I would not assume an email with this at the bottom was a template.
Genius!
Porsche's Car Sales Follow Up Script
I wanted to find upscale dealerships follow up script, so I secret shopped a local Porsche dealer.
I created a Gmail address as "Steve Shin" and put in a lead. This time I left a google voice number in the lead so that I can find out their call schedule and hear the voicemail that they left me. I was curious to see if the Porsche dealer, who sells fewer cars but makes more per car, would have a better car sales follow up script.
I put in the lead at 8:26 AM. Here are the results :
Day 1, 8:26 AM: Automated First Response
I thought the automated response was quite professional. Being automated, it was immediate, which I appreciated.
Hello Steve,

Thank you for choosing Fletcher Jones Porsche of Fremont, your request has been received.

This is an automated after hours response to advise you that we have received your request for information. Our Internet Specialist will contact you in a timely fashion.

Meanwhile, you can visit us at PorscheofFremont.com to review our Exclusive Preferred Benefits.

Please rest assured that your buying experience with us will be 100% hassle-free. We look forward to speaking with you soon.

Driven to Excellence,

Fletcher Jones Porsche of Fremont
Only thing I would change would be the wording, which I would shift around to mention the internet manager that was going to reach out (Raj).
Day 1, 10:08 AM: Voicemail from Sales Person
The timing was a bit disappointing on this voicemail. The store opens at 9:00 AM, so I would assume that a call out should have been able to be made in the first 15 minutes from opening. Regardless, here is what their car sales follow up script (transcribed by Google Voice):
Hi, good morning, this message is for Steve Shin.

Steve, this is Raj with Porsche Fremont calling in regards to your interest in the Porsche Panamera. Turbo.

Give me a call when you have a moment, 510-***-****.

Once again, 510-***-****. Thanks.
The voicemail's content is decent but could be improved. A better message would have mentioned a reason to buy, such as suggesting a special incentive or the limited nature of the vehicle.
Day 1, 10:25 AM: First Response from Sales Person
This email was sent to coincide with the voicemail.
Hi Steve,

I left you a message regarding the 2018 Panamera Turbo. The car is available for immediate delivery. There are no factory incentives on the car. However, I can do 5% off the car. I have "2" cars left so let me know asap.

In addition to your Certificate Discount you will become a member of the Fletcher Jones Owner's Club which entitles you to these exclusive extras worth $1,220.00*:

• First year maintenance services FREE (a $350 value). Your first paid service is in two years.
• Three month wellness check FREE (a $280 value)
• Pick-up and delivery of your vehicle at your home or office for service and we will bring you a replacement car FREE (a $450 value over 3 years)
• Shuttle service FREE to local places
• Up to 12% discount on all parts and labor (a $140 value in years 2 and 3)
* Not redeemable for cash or discount.

I look forward to assisting you with Porsche your Panamera ownership

Best,
Raj Kumar
Porsche Internet/Leasing Manager
Fletcher Jones Porsche
Direct 510-***-****
Mobile 510-***-****
I liked a few things about this email. First thing I wanted was the clear offer of a discount on the price of the car. Secondly, the "$1220" of extras is a nice touch. This value offer is a clear value proposition that can help set the dealership apart.
After this email the car sales follow script fell apart, as I didn't receive any calls or emails until this:
Day 4, 10:46 AM: Only Follow Up after First Day
This email below is the only follow up I received, on the fourth day:
Hello Steve,

As the E-Commerce Department Manager I am checking in on your experience.

Has our team met your expectations? Is there anything I can do for you?

Driven to Excellence,

David Saucedo
Sales Manager
Porsche of Fremont
Direct: (510)***-****
Fax: (510)***-****
www.porscheoffremont.com
And that's it. No other follow up, no more calls. For a customer interested in a $90k car they sent one automated email, two templates and called once. I was pretty disappointed.
Car Sales Follow Up Script Review
I think that while Elise's program is a bit extreme, Porsche Fremont's is a bit lackluster. Both can be brought closer to the middle way.
Utilize the tips and tricks found in Elise's program, but don't drown the customer with your car sales follow up script.
What are your thoughts? What is your ideal car sales follow up script?
Trying to improve? Consider reaching out for direct coaching, more information here: https://carsalesstory.com/coaching/