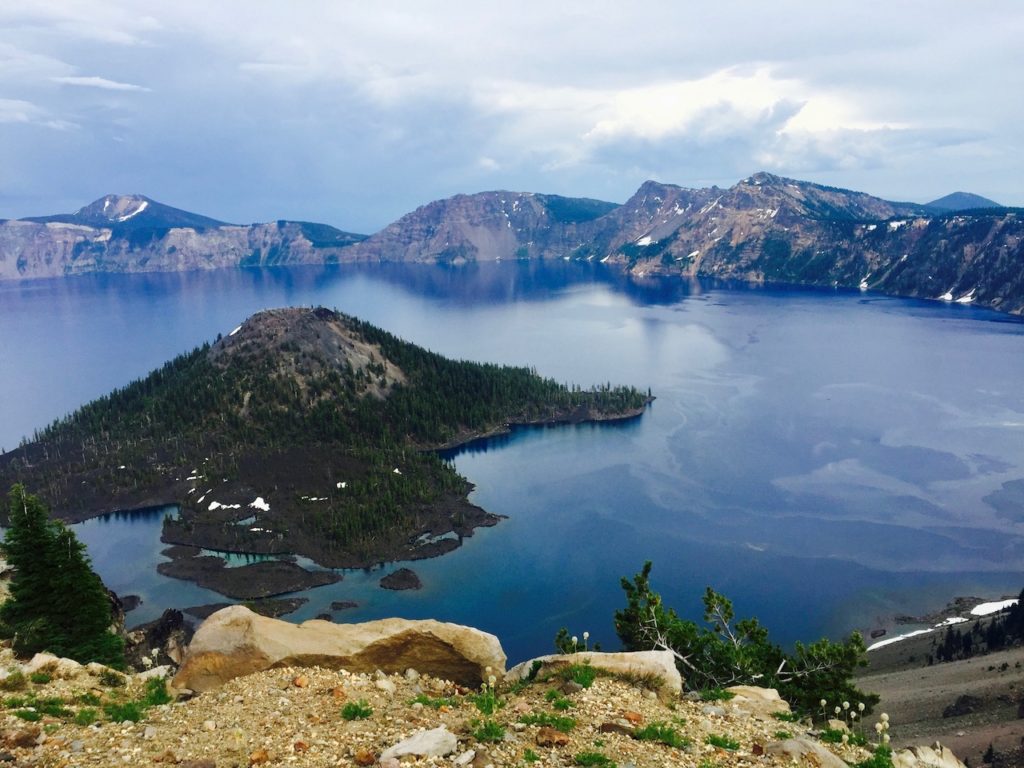 Understanding your Market
When you sell cars on the internet the absolute most important thing you need know is the market. Market research is an integral part of internet car sales training in 2018.
As time has gone on the new vehicle has become more and more of a commodity in many places.
In a thriving market there will be plenty of sellers and plenty of buyers. The Honda Civic LX that you buy from one dealer will be identical from the Honda Civic LX that you buy from another.
That means that dealers can differentiate themselves on two things.
Price
Service
If you sell cars online you compete with others that are selling cars online. You need internet car sales training.
Good news, it's pretty easy to do market research and find out what your competition is like.
The History of Price
After reading some reviews, looking at some pictures and asking a few friends, customers are ready to have an idea of pricing. They inquire online first, reaching out to the dealer for their quote.
To understand this customer, you can take into account the history.
There have been three distinct time periods of price shopping in the Automotive space.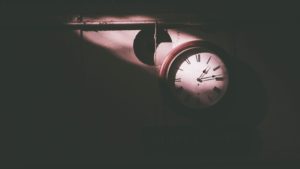 Pre-Historic Period
In the pre-historic time period, the car shopper went into the local dealer and asked for the best price. They sat at the salespersons desk and sat and sat and sat. They spent a few hours at the store, and assuming they didn't absolutely hate the guy, they left with a new car.
It was mostly about the dealer having a car that worked and fitting a budget.
There were actual "Kelley Blue Books" and the like lying around, but they weren't nearly as common. You could buy them at 7/11 and put them in your literal back pocket.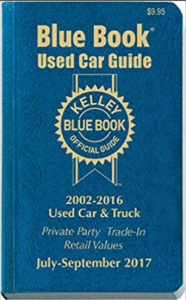 Historic Period
In the historic period, the internet emerged as the information database. Customers could now go on KBB online. They can make forums to share information about their experiences. Information was becoming easier to acquire.
Some dealers started leveraging their online presence to sell more cars. With inventory being listed online dealers moved in the "velocity" and "volume" models.
Modern Period
Information is everywhere. Every year more customers move online for their car process, many demanding to do everything over the internet. Some have started asking for the car to be delivered to their homes.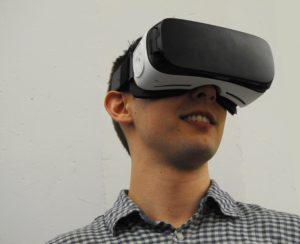 Customers feel more comfortable "interfacing" with other human beings with the cell phone as the intermediary. Nine out of ten deals involve the buyer, seller and the internet.
If a customer does come into the dealer, the cell phone sits in their hand to constantly fact check the salesperson.
Dealers respond in kind, scrambling to find a strategy to efficiently capture the customers.
The Truth about Price
The truth is that different people pay different prices. The internet has brought the pricing of any single model into a smaller range. It also certainly removed some obvious outliers, but it did not make everyone pay the same amount.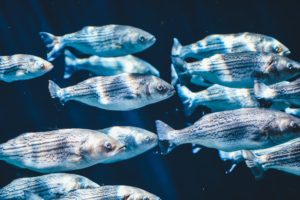 It's also true that as a dealer you can choose what you want to be.
You can be the dealer that wants to sell every car possible. You hyper focus on service, used car and F&I profit, while eating a loss on your new cars. Your dealer will sell the new cars at a loss and beat every deal.
The Flipside
The flipside is that you can skip that race all together. You can sell at a higher price, make sure all your deals make sense, and run on less volume.
It's no surprise that manufacturers prefer dealers to run the velocity model. It's inherent to their self interest. The more cars that dealers sell, the more cars that dealers buy from the manufacturer.
Dealers don't need to sign on to this. They can avoid it, opt to say "no" more often. The sales profit will be higher and you can be more selective with your customers.
If your dealer is a higher profit dealer then your customer service needs to stand out.
The Customer Service Choice
Selling cars online can successfully be performed as a luxury white glove service or as a shortcut to selling volume at a loss.
The thing that can't be shortcut is customer service.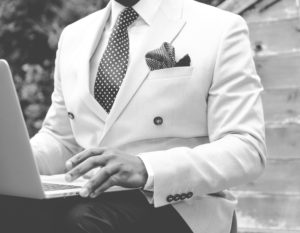 The demand on customer service is higher when you sell cars with "white glove" service. Essentially, you need to be providing value above and beyond so as to convince your customers that your price is worth it.
The demand is less when you are the king of discount. That being said, you can get yourself in a heap of trouble if you ignore it completely. Customers, even those getting $5k off MSRP, are spending a significant chunk of money with you.
Secret Shopping
It's no secret that timeliness is an essential facet of customer service when working in a internet department. It's industry standard to respond to leads in 5 minutes.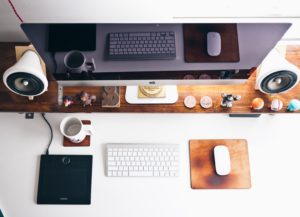 I touched on this in this article: Internet Lead Response Best Practices
Seeing as response time is so critical, I decided to test some dealers. I figured I could get two birds with one stone since I had my first request from a reader on Reddit:
I am the only honda dealer for 100 miles in any direction. (Sweet right?)

I live in a retirement community so all these customers have is time and gas to burn.  And if they can save 200$ they will drive 2 hours to save it.

So I can quote them something like your market pricing lets say its 800 above invoice on a new honda accord and most of the cars are selling for 500 above invoice on all the different websites like kbb and truecar.

But my next closest honda dealer is quoting them in email 2000$ less.  It is a e price and does not include destination, accessories, and when the customer drives there in person and finds out its not actually 2000$ less they buy anyways because they can't save face with me because they told me they have my price beat by 2000$.

How do you overcome price quotes that arent real.  Because you can send people quotes around truecar via email and you will never hear from them again after they get the other dealers quote.

That has happened 100+ times in 8 years of selling hondas.
Down in North Carolina
So, I started with a little research, similar to what a customer would do. I decided to be "Jeff Bachs" shopping for a 2018 Honda Civic Sedan LX. I grabbed a local ZIP code and plugged it all into KBB:
Pretty simple. Know I was going to learn the competitive landscape: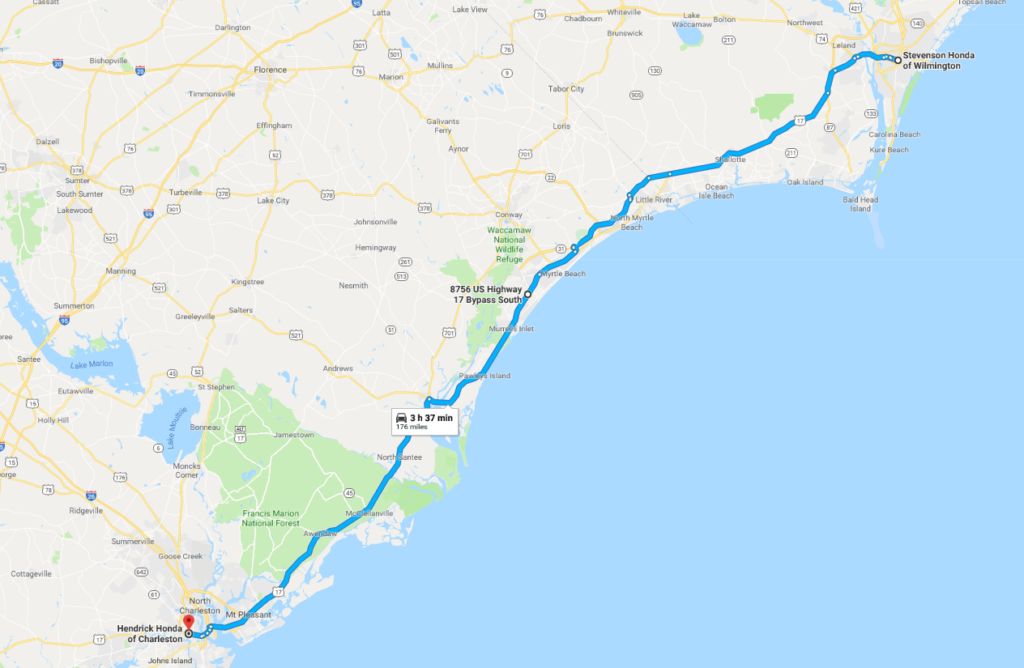 Ok, pretty spread out. I'm guessing the lead response is going to be lackluster because of this spread, but let's see what they quote on pricing.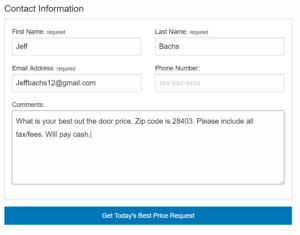 I submitted leads at all 3 dealerships:
https://www.charlestonhonda.com/
https://www.stevensonhonda.com/
https://www.eastcoastcars.net/
I submitted the leads at 10:20am and waited.
Exactly 48 minutes later I received my first response from Juan Enciso: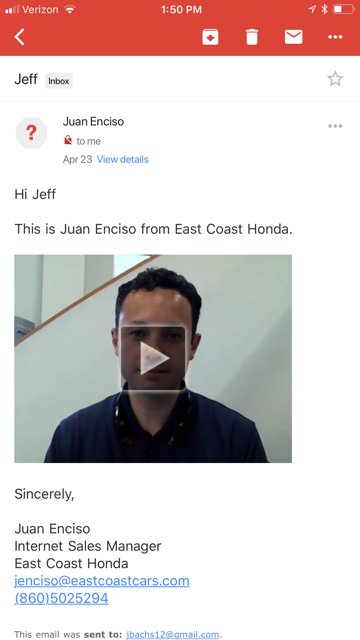 So, not what I asked for (a price out the door) in my lead, but the video is a high effort response. I watch it and it boils down to "just get 'em in".
Not impressed, I responded, asking again for an out the door price. I am giving him another shot.
This is his response: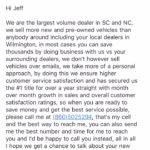 The Longest Single Sentence Possible
Here it is in it's entirety (key take away from my internet car sales training- don't write emails like this):
We are the largest volume dealer in SC and NC, we sell more new and pre-owned vehicles than anybody around including your local dealers in Wilmington, in most cases you can save thousands by doing business with us vs your surrounding dealers, we don't however sell vehicles over emails, we take more of a personal approach, by doing this we ensure higher customer service satisfaction and has secured us the #1 title for over a year straight with month over month growth in sales and overall customer satisfaction ratings, so when you are ready to save money and get the best service possible, please call me at (860)***-****, that's my cell and the best way to reach me, you can also send me the best number and time for me to reach you and I'd be happy to call you instead, all in all I hope we get a chance to talk about your new car and thank you for you inquiry, I really hope we can help you out.
Thank you
Juan Enciso
Internet Sales without Email
Can you see the pertinent sentence up there? Ok, it's all one big sentence, but this one part stands out:
"…we don't however sell vehicles over emails…"
What? How is that still possible?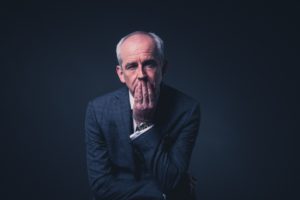 If this truly is the largest volume dealership in SC and NC then I think their market is ripe for some competition!
Do you want to know the sad truth?
The other two dealers?
https://www.charlestonhonda.com/
https://www.stevensonhonda.com/
They never responded. Literally never even sent a first response email. It's been 36 hours. Maybe Monday at 1 pm was too busy?
These dealers needed some internet car sales training.
What about the Luxury Experience?
Ok, I got a good idea of what I was working with in North and South Carolina as far as Honda goes. It was time to get a taste for the luxury experience. I figured that with higher MSRP cars we would find salespeople with more internet car sales training.
Needing a new personality for my next secret shop, I decided on "Steve Cornelius", self employed at "Cornelius Steaks". I was shopping for a cash purchase of a 2018 BMW 320i, MSRP of $42520.
The lead was sent in at 11:50 am to two dealers:
https://www.leithbmw.com/
https://www.bmwofwilmington.com/
Internet Car Sales Training: Avoid the Waiting Game
Only ten minutes went by before my first response, fantastic turn around. The email was a bit of a let down, but not horrible:
Hi Steve,

thanks for your time and interest My name is Evelyn Gonzalez, I am an interest sales coordinator here at Leith BMW of Raleigh. I will be more than glad to assist you in getting into a new BMW 3 Series. In order for me to give you more accurate numbers I will need to know where you will be registering the vehicle? Also, what kind of vehicle are you currently leasing?

Evelyn Gonzalez
Internet Sales Coordinator
Leith BMW of Raleigh
What jumped out at me immediately about was that it was clearly hand typed. Why, in 2018, are they not using a simple first response template to communicate to the customer?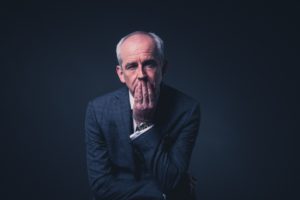 All they would need to do is have a template in their CRM that pre-fills all this information. They could have a simple area to manually input an "e-price".
Internet Car Sales Training: Template Example
Using their wording, here it is in template form: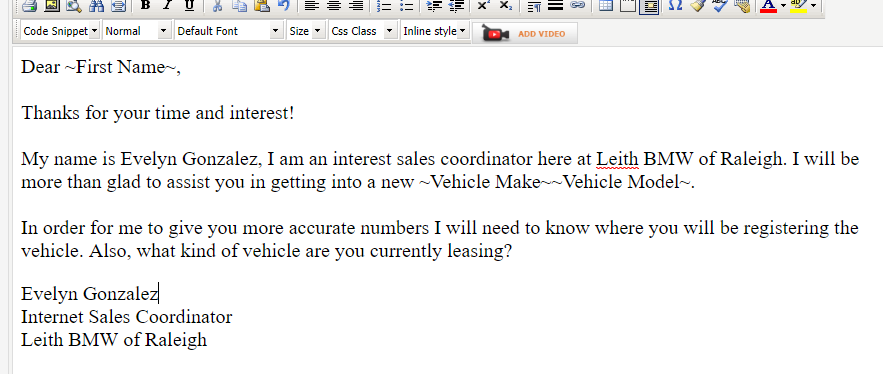 If they had that set up their email would look more professional, they would have better response time, and probably less carpal tunnel for their employees.
Internet Sales Manager vs. Coordinator vs. Assistant
What I am finding is a lack of discipline in the internet departments I audit with my secret shopping.
Many of the people I end up talking to are "coordinators" who are the intermediaries between the manager with pricing ability and the customer.
This can work, and be efficient, if the "coordinators" are well trained in responsiveness and writing. The first response emails need to be fast and they need to be well written.
The first responses shouldn't take 45 minutes to get to me.
It shouldn't be full of spelling errors.
This is regardless of if you sell an important volume brand like Honda or a luxury brand like BMW.
Review: Internet Car Sales Training
In the United States there are many places where you can still sell cars online without ample internet car sales training.
That is changing. Customers want fast responses, they want professional writing, and they want pricing in email.
You simply need to quote a price.
Let me know what you think below!
I have some other articles that relate to internet car sales training here: