One of my favorite tasks is crafting the perfect follow up sales email after no response. I believe in the car sales career, and I think that those that can master your follow up process is key to your success.
Being able to close low hanging deals is one thing, but selling hard to reach customers is an entirely different task!
This article is focused on writing the perfect follow up sales email after no response for car sales, but these templates have been built from experts across several industries.
As such, they can be appropriated for most sales organizations.
The Reasons For Non-Response
Plenty of reasons exist for your no response customers. Indeed, some never wanted to inquire in the first place and see your constant tries to contact them as just part of the daily deluge of spam emails.
The people we want to concentrate on are those who want to buy, but haven't yet:
Found Someone They Like To Work With (Rapport)
Found A Deal That Suits Them (Value)
Had Their Interest Piqued (Unique)
Found The Time (Opportunity)
So you need to be crafting the perfect follow up sales email after no response that builds rapport, offers value, uniquely, at the right time. The first three are content and the fourth demands that you follow up consistently. If you send one non-response to follow up email and then give up, you are not giving yourself excellent odds.
Let's start by showing some lackluster examples of standard non-response emails that don't work. After we break down what's wrong, we can jump into some expert alternatives.
Follow Up Sales Email After No Response: Lack Luster Example #1
When I was secret shopping for my last article about car sales follow up scripts, I did some secret shopping online. I targeted a local Porsche dealer, hoping to find some strong follow up. If you read that article, you would already know that I ended up disappointed…
And that's it. No other follow up, no more calls. For a customer interested in a $90k car they sent one automated email, two templates and called once. I was pretty disappointed.
The last email I received is one that I have seen many times with slight tweaks. This follow up sales email after no response is providing a solution for something that wasn't a problem. See if you can spot what they are trying to address:
Hello Steve,

As the E-Commerce Department Manager I am checking in on your experience.

Has our team met your expectations? Is there anything I can do for you?

Driven to Excellence,

David Saucedo
Sales Manager
Porsche of Fremont
Direct: (510)***-****
Fax: (510)***-****
www.porscheoffremont.com
The system that sent this was working to utilize a common sales strategy, the change of face. This sales strategy is advantageous during the sales process when a potential client may not be interfacing well with the salesperson. This strategy is not sufficient, however, when the problem is non-response. The customer isn't not responding because the salesperson pissed them off; they aren't responding because of our four key reasons above.
Follow Up Sales Email After No Response: Lack Luster Example #2
This email comes to me from Leith BMW in Raleigh, North Carolina. I did some secret shopping there and was initially disappointed with the response. Their response times had been great, but the templates (and lack thereof) that they used were not the best.
When jumping back in my secret shopper identity, "Steve Cornelius," I expected to find an inbox full of emails. I figured that this dealership would have an actual follow-up game, just maybe not the best content.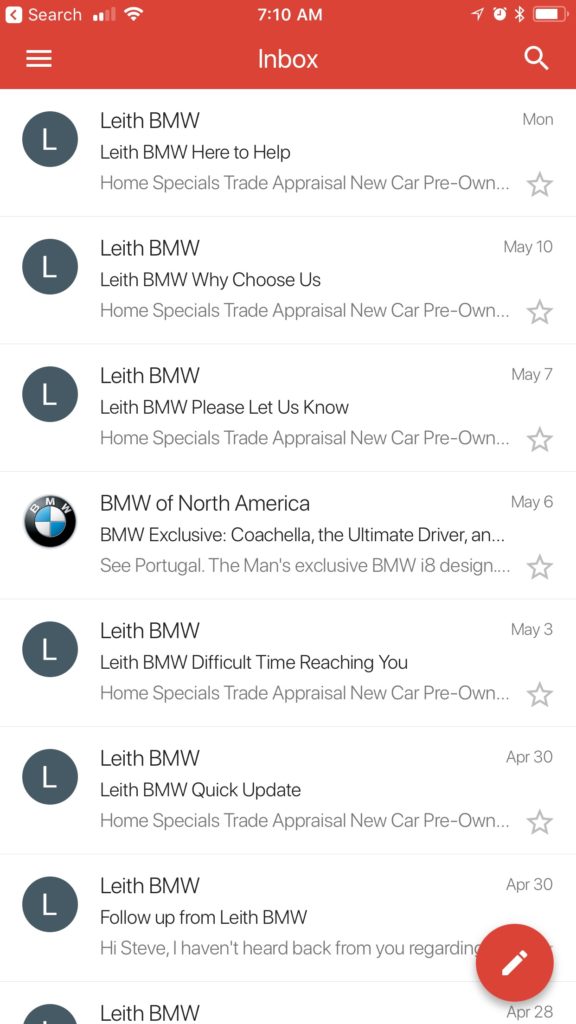 So the follow-up schedule is every three days. Not a bad schedule to set up, assuming it is automated.  I think that if you are going to have this
I went through all of those emails. This one is the most follow-up sales email after no response from me for a few days.
Steve,

It has been several days since you contacted our dealership. I would like to be able to meet your needs. Please help us by answering these questions so that we can do our best to earn your business.

Did we not have the vehicle you were looking for?
Please let us know, we may have that vehicle available now.

Were we not able to get you the price or terms to fit your budget?
Please let us know, Dealership and Manufacturer incentives change on a regular basis, so we may be able to work out a better deal than previously offered.

Have you purchased a vehicle elsewhere?
Please let us know, so that we can update our customer records.

If you have yet to make a purchase, please contact me at your earliest convenience and I will provide some current numbers that reflect our inventory and any incentives currently available.

The staff of Leith BMW wants you to know that your time and business is important to us and we will make every possible effort to earn your trust and your business. Your complete satisfaction is our top priority!

Thank you in advance for your feedback.

Evelyn Gonzalez
Internet Sales Coordinator
Leith BMW of Raleigh