If you've been around this site at all in the last month, you may have seen some hints that I have a brand new book coming out next week.
Now Available! Click Here to See It!
The book, "The BDC Manifesto," is a start to finish career guide for automotive BDC representatives. It's meant to be a comprehensive manual for representatives and managers that work in the BDC (also called "Internet Department" at some dealers).
Here is the table of contents if you are curious: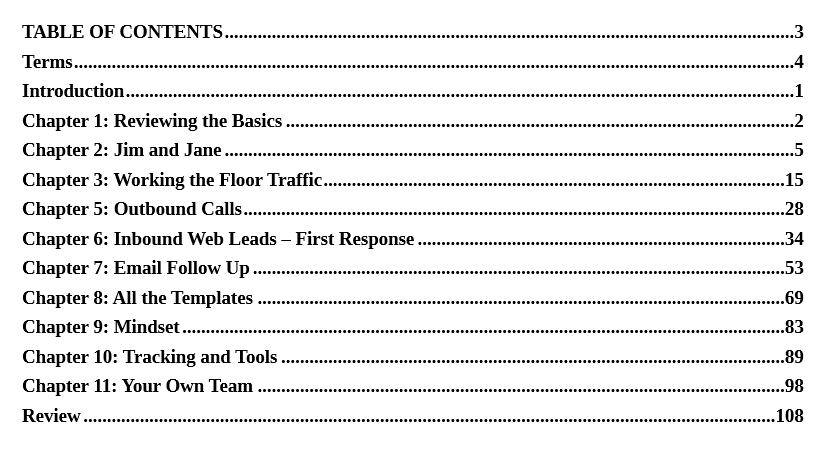 With "Wednesday Launch Day" just around the corner, I've been thinking about where this site is headed and what I want to make of it. I've been passionate about the car business for the full 6+ years I've been working in it, as the opportunities presented by it have been transformative in my life. 
So what next?
Obviously, I'm excited by the prospect of the book launch next week. I'm going to be doing a small marketing campaign to drive some sales of the book, and then it will become passive, allowing me to move on to the next project for the site.
The Next Project: New Book and BDC Consulting
So, what is the next project? 
Well, it's going to be threefold. 
First off, I'm hoping to parlay the success of "The BDC Manifesto" into an opportunity to do some dealership consulting. I'm still in the early stages of planning it out, but if the book gets a good reception it may come together naturally. I have pretty detailed plans on structuring a successful BDC/Internet Department based on my experiences at my own store which I would love to bring to other dealerships.
The prospect of helping dealerships make more money is pretty enticing. Might give me a chance to see more of the United States as well, which I would love. We will see!
The second part of my master plan? A new book of course! I'm hooked. Writing a long blog post is one thing, but having the opportunity to organize my thoughts into a more polished package is addicting.
I'm planning for the focus to be "Reaching Financial Independence In The Car Business." I'm pretty passionate about running your life like a business, so it should be interesting to combine my strategies for success in the car business with strategies for success in personal finance. 
Finally, I'm hoping to recruit some candidates for personal success coaching. I have had one mentee in the past and it was an amazing experience that I'd love to get back to. Shoot me a message if you are interested!
Final Thoughts on the Upcoming Launch
Make sure you subscribe to the email list to get a coupon code on Wednesday for the new book. I look forward to hearing your thoughts! 
The book will be "satisfaction guaranteed," so if you find that it doesn't live up to your expectations I will offer refunds. 
As always, 5% will go to charity.
Can't wait!
-Andrei